5 tags
Some thoughts on customer engagement...
These are some rambling thoughts that I am getting out of my mind and open for discussion. What to hear what others thoughts are… Thoughts - and possibly  shop signs - to briefly explain a position on coffee without milk and sugar Milk and sugar is offered to those who try their coffee without it first Milk and sugar in coffee is not the same as salt and vinegar on chips The more milk...
6 tags
Quality: Knowing Where It Comes From
This is not necessarily about coffee, but definitely about a model the artisan coffee industry has that should be taken on by others. The great thing about quality is that you know where it comes from. Good coffee from a decent supplier will usually give you more information about where the beans are from than you can possibly process. You can know farmers names, altitude of plants and see photos...
Anonymous asked: I think one thing that chain coffee shops do well is consistency. Or at least, that's the conventional wisdom - that the uniformity of things like espresso machines, staff training (barista and customer service / front of house), suppliers, shop decor etc - mean you'll receive a relatively consistent coffee/ experience no matter which branch of a chain you visit. In this respect, I think...
Anonymous asked: Hi. I enjoyed your post on independents vs chains. I think that, even if a coffee chain were to do all of the things you mention (unique design, emphasis on quality, great service, community focus), people would still head to independents. I think it would be fair to say that there's a degree of distrust in play when it comes to chains that are large and visible, and a feeling that the things...
counter-productive asked: Interesting comments on restaurant coffee, personally I think a top end restaurant with customers prepared to pay more for quality is the place for single origin brewed coffees and a separate brew menu with more emphasis on quality.
9 tags
A thought on independent/chain coffee shops
Independent coffee shops are largely liked because of some of these aspects: Unique in design Quality focused Excellent customer service Emphasis on local community Well, what if a chain came out and did all these, as well as serving excellent coffee? There is much discussion and admiration for independent shops, but what (in the quality coffee scene) wins people over? I can fully imagine...
10 tags
Espresso Machine vs. Batch Brewers in restaurants
I recently visited a restaurant that served excellent food and was also informed that they were buying in excellent coffee. On inspection of the coffee area I saw a poorly maintained espresso service area - both machine and grinder were far from top of the line, but more than sufficient to produce great coffee on; but the problem lay in the treatment of the equipment in both hygiene and general...
16 tags
Making Coffee at TED Global, Edinburgh 2012
I survived Edinburgh, making coffee for the TED Global 2012 delegates, and came back alive. It was a pleasure to work with Ristretto and be behind the bar with some of their great baristas. The event was done with a number of partners, supplying brewing  equipment or ingredients, and it was great to work with materials supplied by: Alchemy coffee roasters, Mercanta coffee beans, La Marzocco,...
11 tags
Coffee at TED Edinburgh 2012
I am well chuffed to announce that I will be working with Ristretto to serve coffee to the attendees and speakers of TED Global 2012 in Edinburgh.  If you are not aware of TED, it is an internationally renowned event that gets creatives, designers, intellectuals and pioneers of industry to give talks of their choice. It is a closed event, both an honour to speak at or even be able to attend. The...
9 tags
You don't sell the coffee, you sell the aroma
In Simon Sinek's talk 'How great leaders inspire action' he said 'People don't buy what you do, they buy why you do it.' I firmly believe in this. If you what you appear to have in your shop is passion rather than product, people will relate and customers will feel empowered in their purchase of a product as they are investing into a passion. How does that...
10 tags
Visit to Colonna & Small's and Extract roastery
I had the pleasure of meeting Maxwell of Colonna & Smalls and the guys from Extract Coffee at the London Coffee Festival, both assuring me that I should come and visit their respective places soon… Only to the be extended a place on a road trip by Saint Caffe's team a couple of weeks later when they headed down that way. If you don't know Saint Caffe, they are an excellent...
8 tags
Coffee Workshop Session at Ort Cafe
On Sunday 6/5/12 I held a little workshop session at Ort Cafe about coffee - simply brewing coffee with a v60 for a £2 donation to charity (Waterfall Project). It was a great afternoon, just fielding questions and giving me a challenge to think about how I present coffee and prepare it. I'll be doing another session there soon enough, I'll put the notice out there for people to...
7 tags
8 tags
Why 'Customer Service Vs Quality' should be a...
The reputation of good shop can surely be undone in how it copes when it is busy. People may like a good chilled out place in off peak hours, but (if we are talking about cafes or restaurants here) then during the busy lunch or dinner periods then we want to be in the establishment because it has the buzz and because of the quality of product we are paying for. I was recently informed by a...
11 tags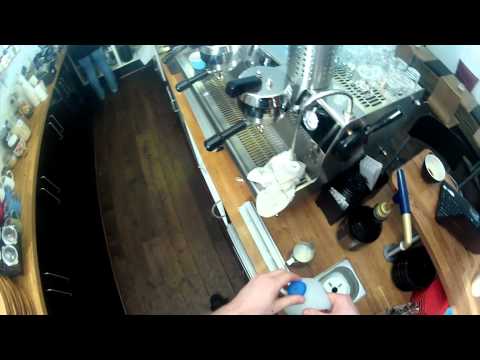 10 tags
Brewed by Hand at 6/8 Kafe - 22/3/12
Big thanks to Nathan from Brewed by Hand for a great session on Thursday. A really interactive hands on class that showcased many of Hario's coffee brewing products and brought together many people that work around coffee in Birmingham. I think everyone came away with a better understanding of brewing practices and will translate in Birmingham's baristas being able advise...
7 tags
Good Coffee and the importance of 'Play'
On a day off I had a bit of an experiment with Square Mile's Bella Vista Narino in the V60. Using my trusty Hario handgrinder, I decided to do several brews just playing around with with different grinds and the resulting extractions. I ended up doing 4 brews using the Intelligentsia pourover method, mainly because it is a good way of getting consistency of method.  While I originally...
6 tags
SCAA Instructor Development Program
On the 2nd March 2012 I took part in the SCAA Instructor Development Program - a one day intensive hosted by Square Mile Coffee, used to raised the standards of understanding methods of teaching, in this case applied to training staff in coffee. Although taking part in this course meant you were accredited with SCAA's Lead Instructor Credential, it should be pointed out that you learn...
6 tags
Brewed by Hand - home brewing workshop 22/3/12
Brewed by Hand, the UK importer of Hario coffee products, will be heading up to 6/8 Kafe on the 22/3/12 to hold a workshop on how to make excellent coffee at home. The aim will be to show what differences filtering water, grind and general equipment make to the home barista. This will be for coffee shop baristas (and a couple of enthusiasts) to better educate their customers; thus improving the...